Garden City Limo & Towncar Service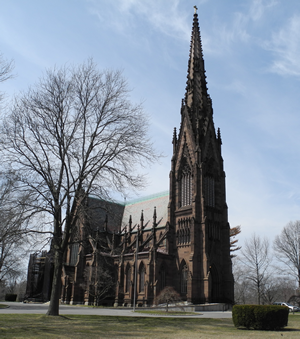 S&G Limousine of Garden City is dedicated to providing those in the Long Island and New York areas with 24 hour luxurious limousine and town car transportation services at a competitive rate.
Treat yourself to a luxurious night on the town with the help of S&G Limousine. No matter where In the Garden City area you are headed, whether it be the Garden City Golf Club, Go Dolphin Racing, World Next Door Studios, or New York Times, just to name a few of our most popular destinations, we can help you get there in style!
We specialize in Garden City airport transportation. We offer great rates to and from JFK Airport, LaGuardia Airport, MacArthur Airport and Newark Liberty Airport. No matter if you are departing or arriving, traveling alone or with a party of 12 – we have the limo or town car ready to make your airport transportation a breeze. If you are planning on visiting the Garden City area, call us before you leave and we will have a limo or town car waiting to pick you up at the airport.
For more local Garden City excursions we offer several packages. If you are planning a Garden
City wedding or bachelor party, we were voted the top wedding limo provider on Long Island. We offer the same great services for; Garden City High proms, Garden City Golf Club, Garden City Country Club and Cherry Valley Club outings, and all Belmont Park Race Track events. We also offer special packages for concerts at Nassau Veterans Coliseum, and all New York Islanders games!

At S&G Limousine of Garden City - comfort meets luxury. Enjoy a night on the town with a couple close friends or a huge party group in our fleet of limousines, town cars and party buses that seat from 1-4 guests all the way to 32 guests on our party bus.
No matter what your needs may be for any event, S&G Limousine can help! In addition to our most popular destinations, we also offer transportation services to a large number of other Garden City locations including schools, nursing homes, parks, churches, and businesses for your convenience.
Events at Nassau Veterans Memorial Coliseum


June 21 - WWE Live


July 11 - American Idol Live 2014


August 1 - Miley Cyrus Bangerz Tour


Aug 21-23 - Marvel Universe LIVE


September 22 - Cher D3K Tour


Oct 24-26 - Long Island Fall Home Show


Nov 4-9 - Disney's Frozen on Ice

As a local business, we pride ourselves on not only offering helpful and reliable transportation services to each of our customers but also the hometown professionalism we are best known for. Each of our cars are accompanied by a courteous and helpful driver that is responsive to all of your needs including guaranteed on time pick-up.

S&G Limousine's fleet are offered at a competitive rate and bring a world of comfort to your experience. Need a private ride or have a last minute request? We are happy to accommodate all of your needs.

We aim to be the top limousine and town car provider in the Garden City, Fanklin Square, Hempstead, and Mineola area. Whatever your limo needs, we are here for you.

By choosing S&G Limousine you not only choose luxury, comfort, professionalism, and dependability but you also choose a hometown business dedicated to its customers. For more information, call or e-mail us today!
We proudly offer Transportation Services to these Garden City Locations:


Hyatt Inn Garden City


La Quinta Inn Garden City


Garden City Hotel


Castle Village Farm


Godolphin Racing


Lakewood Stables


Community Park


Global-Net Solutions, Inc.


Healthtrax Fitness & Wellness at the Winthrop Wellness Pavilion


St. Paul's Recreation Complex


Cherry Valley Club


Garden City Golf Club


Nassau BOCES Interscholastic Athletics


Saint Paul's Fieldhouse


Cherry Valley Club


Garden City Casino Inc


Garden City Country Club


Garden City Country Club Golf Shop


Garden City Golf Club


Adelphi University


Berlitz


Career Institute of Health & Technology


Cathedral Nursery School


ELS Language Center


First Presbyterian Church of Mineola


Garden City Community Church Nursery School


Garden City High School


Garden City Middle School


Garden City Nursery School


Garden City Public Schools Administration Building


Garden Manor Nursery School


Hemlock School


Hofstra University


Homestead School


Locust School


Long Island Beauty School


Nassau BOCES Administrative Center


Nassau Community College


Saint Anne's School


Saint Joseph School


Sanford-Brown Institute


Seascapes USA




Hampton Inn Garden City


Polo Steak House


Ruth Chris Steak House


Stratford School


The Lutheran Preschool


The Parent-Child Home Program


The Waldorf School of Garden City


The Waldorf School of Garden City Driver Education


World Next Door Studios


AAA New York


Adelphi Breast Cancer Center


Annex Adoption


Assigned Counsel Defender Plan


Budget Licensee Association


Cathedral of The Incarnation


Central Property Owners' Association


Christ Episcopal Church


Church-in-the-Garden Baptist


Church of Saint Anne


Community Mainstreaming Associates


Cooley's Anemia Foundation


Crohn's & Colitis Foundation of America


Eastern Property Owners' Association


Edgemere Park


Epilepsy Foundation of Long Island


Ethical Humanist Society of Long Island


First Presbyterian Church of Mineola


Friends of the Garden City Public Library


Garden City Bird Sanctuary


Garden City Chamber of Commerce


Garden City Community Church


Garden City CSA


Garden City Gazebo


Garden City Jewish Center


Garden City Kiwanis


Garden City Public Library


Garden City Senior Recreation Center


Girl Scouts of Nassau County


Grove Park


Hemlock Park


Herald Community Newspaper


Ibotu Health and Welfare Fund


Stewart School




Waterzooi Garden City


Novita Wine Bar


Mint Restaurant


Jewish Star


J.P. Morgan Chase Corporate Challange


Kidz Therapy Services


KVL Audio Visuals


Life's WORC


Long Island Alliance For Peaceful Alternatives


Lutheran Church of Resurrection


Mitchel Field Commissary


Motor Magazine


Nassau County Bar Association


Nassau Haven Park


Nassau Suffolk Coalition for The Homeless


National Association of Professional Women


National Benefit Fund


New York Public Interest Research Group at Nassau Community College


New York Radiological Society


New York State Psychiatric Association (NYSPA)


New York Times


Property Owners' Association of Garden City Estates


Rauch Foundation


Retired and Senior Volunteer Program


Saint Joseph's Roman Catholic Church


Saint Paul's Cluett Hall


Shelvin Plaza Associates


St. James Lutheran Church


St. Paul's Recreation Complex


St. Paul's Senior Center


The Children's Leukemia Research Association, Inc.


The Garden City Historical Society


The MIRACLE Foundation


The Presbyterian Church


The Welcoming Center at The Winthrop Wellness Pavilion


Tullamore Park


Unitarian Universalist Church


Veterans of Foreign Wars


Visiting Nurse Association of Long Island


Western Property Owners' Association